Hotel Amenities
With so many new hotel brands, from short-term rentals and new technology, it's easy to get overwhelmed when trying to make your hotel stand out in the eyes of hotel guests. Renovating your property can be expensive and time-consuming, but hotel amenities are an easy and effective way to stand out in your competitive environment.
Let's get back to basics and find ways to enhance the guest experience. Put yourself in the guest's shoes: What are the pain points you experience when traveling? What items would you like to bring with you and what amenities would really make a difference to your stay? Today's guests crave novelty and practicality. They want to be surprised by the hotel amenities they actually use.
In this article, we will outline the basic hotel room amenities list required.
Basic Hotel Amenities (Basic Checklist, Toiletries, etc.)
Before diving into our list of unique amenities, we want to make sure that each hotel has the basics. These hotel room amenities used to be the hotel's main selling point, but now they're taken for granted. In short, when guests stay at a hotel, they expect these items to be readily available and free of charge:
1. Toiletries (e.g. shampoo, lotion, etc.)
2. personal care (comb, shaving cream, razor, shower cap, hairdryer)
3. Coffee Kit (coffee pot, coffee, and creamer)
4. Tissue box
5. Bathrobe and slippers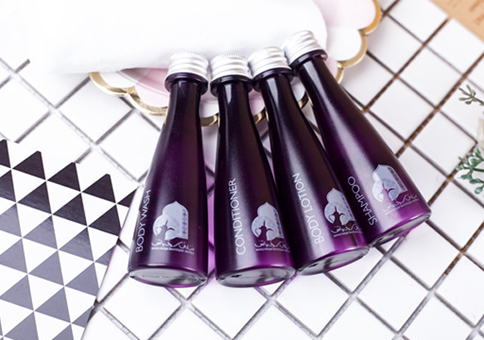 Hotel Shampoo Bottles
6. Complimentary breakfast: Guests want to save money and enjoy the convenience of making their own breakfast or having it just steps away from their room. When most short-term rentals include a kitchen, hotels can compete on the breakfast front by offering some sort of complimentary breakfast option, whether it's a continental buffet or a sit-down hot meal.
7. pillow options: Many guests are allergic to or have strong preferences for certain types of pillows, so you can make your hotel feel more like home by offering down, foam, and hypoallergenic pillows.
8. Free WiFi access: Remember the days when hotel WiFi costs $20 a day? Well, some hotels are still stuck in those days. Free WiFi is quickly becoming an amenity, just like shampoo: guests expect it, but they don't want to pay for it. For some guests, not having free WiFi can be a deal-breaker. Want to go above and beyond? Let guests watch TV through your hotel room via platforms like Netflix.
9. Premium coffee: Upgrade your in-room offerings by swapping out cheap miscellaneous coffee pods for freshly ground beans from a local roaster, or even a luxury Nespresso machine. If upgrading in-room coffee is not feasible for your property, consider adding a machine that makes cappuccinos and lattes in the lobby.
10. gym or fitness center: Today's guests don't want to sacrifice their workout regimen on the road, so even if your hotel doesn't have its own fitness center, guests will enjoy discounted rates (or better yet, free classes or gym time) at a nearby fitness facility.
If you want to get more information about the best hotel amenities, welcome to contact us today or request a quote.