Slippers are becoming one of the most important amenities offered by hotels around the world. Hotel slippers are designed to allow guests to walk around the room (including the bathroom) in comfortable, clean shoes.

We thought it would be useful to study the hotel profile before deciding on the type of hotel amenities we would use, and as far as slippers are concerned, the situation is no different.
Let us review two of the best models.
Disposable slippers
These slippers, which are considered to be replaced daily, are usually made of a non-woven material that is fresh and durable enough for a day's use. Made from EVA material for the sole purpose of providing vital cushioning and grip for wet areas such as bathrooms or swimming pools.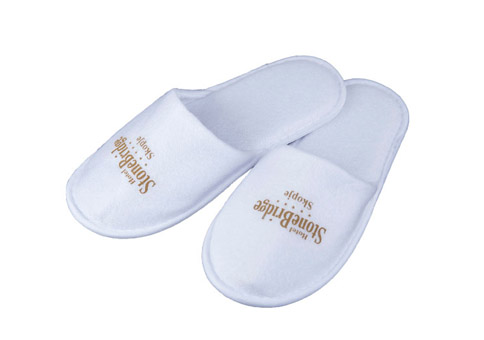 Hotel Disposable Slippers
Disposable slippers have many advantages: breathable; filtering; heat insulation; water absorption; waterproof; flexibility; not messy; feel good, soft; light; elastic, recoverable; no fabric direction; compared with textile fabrics, high productivity, fast production; low price, mass production; size fixed, not easy to deformation; with non-slip, comfortable to wear, easy to use and other characteristics. Suitable for hotels, guesthouses, foot baths, saunas, and other places.
Waffle Hotel Slipper
Normally used in 5 stars hotels or reserved for suite rooms. There is a big range of materials for their production but the main feature is that these materials need to be strong enough to be washed at least 5 times. The most common materials for their production are Cotton and Cotton Velour. The thickness of the sponge needs to be at least 3 mm and for the sole no less than 2 mm. For the sole EVA is probably the most used material although PVC or Rubber are also used and in fact provide a plus of quality with a minimum extra cost. Close-toe and Open toe are available for most models.
Based on these two models we can find much more styles. Lately, and especially for the hotels located near the beach, some hotels are using EVA sandals in order to provide their customers with footwear capable to be used inside the room and outside on the pool or beach.
Of course, all kinds of slippers can be customized with the hotel's name like the rest of the hotel amenities.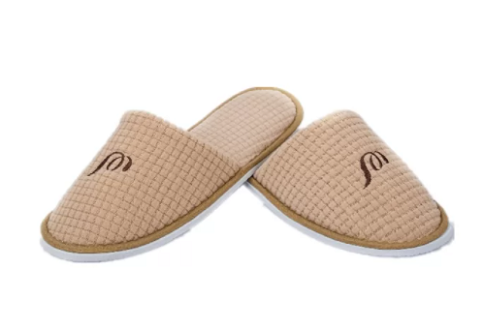 Brown Waffle Hotel Slipper
According to the survey, many hotels now have plastic slippers that can be worn repeatedly instead of being offered as disposable slippers. This saves a lot of money for the hotel, but also greatly reduces the guests' good feelings toward the hotel and makes it difficult to get repeat customers. Therefore, it can be seen that disposable slippers are still very important for the development of hotels, and hotels should be more careful when purchasing disposable slippers.
In order to bring good profit to our customers, JETWAY's disposable slippers are all made with the best soles and the best fabrics. Therefore, our products are appreciated by all our customers and we will do a good job whenever they ask for them. We sincerely look forward to working with you to bring more people a pleasant trip.

Disposable slippers are made of soft and comfortable high-quality fabrics, including terry cloth, velvet, and coral fleece, which do not irritate the skin and are comfortable to wear. They can be customized for the most comfortable foot adjustment. Choose the three-lane vehicle mechanism, which can be very firm and not easy to fall down. Can be applied to a variety of different styles and star hotels applicable.
We are a nationally trusted supplier to resorts and hotels, focused on working with our clients to create exclusive amenity kits that best fit the individual style and needs of each property. From designing creative product concepts to crafting gentle, refreshing formulas, our experienced development team will help you create the ideal amenity for your brand every step of the way.
Let us help you find the best hotel disposable slippers for your needs. Contact us today or visit our website.