If you offer guests complimentary WiFi, a spacious room complete with a bathroom shower and access to TV facilities, then generally you'll be able to answer the question above with a confident "yes".
Creating a unique and thoughtful, hotel amenity that meets the needs of your guests goes a long way. Guests will remember when they were really taken care of, which means your stay gets a good rating. Plus, it'll be fun to put together a unique toiletry set!
Hotel toiletries sets can range from simple soaps to more luxurious things like custom branded lip balms and body washes. It all depends on the quality of the review you want! At JETWAY, we offer you all the best products to provide your guests with the best hotel toiletries. You can give your guests individual shampoos, choose from pre-packaged sets, or add extras like lip balm and loofah!
As hotel amenities supplier, focusing on hotel amenities Design & Manufacture. Since 2001, JETWAY has been one of the biggest With professional design and an excellent sales team, working with hundreds of importers & distributors all over the world, we provide a wide range of hotel amenity products. With professional design and an excellent sales team, working with hundreds of importers & distributors all over the world, we provide them with the best quality products and innovative designs.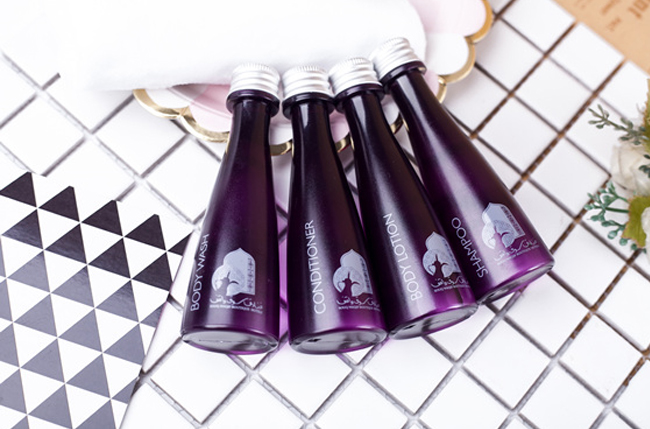 Hotel amenities in-room service
According to the recent Hotels.com Amenities Survey carried out across the globe, travellers ranked these as the four most important in-room amenities a hotel could offer. Air conditioning and tea/coffee followed after, while a complimentary breakfast and restaurant ranked as the two most important hotel amenities.
A social media study published in 2015 sampled 650 000 tweets focused on the hotel guest experience, providing some interesting insights. Nearly 15 000 tweets described the view, often accompanied by a picture, 10 000 tweets mentioned the in-room snacks and food, while over 16 000 tweets mentioned the size, cleanliness and comfort level of a room's bed and linens.
However, looking beyond general trends, the needs of business travellers will obviously differ from those of the casual backpacker or older guests, while younger millennials often have an entirely new set of expectations when checking in to a hotel.
By recognising these needs and fine-tuning your hotel offerings, you'll be able to tangibly improve the overall guest experience – resulting in positive reviews, return visits and ultimately higher profits. And with more and more travellers posting live updates of their hotel experiences on social media, having facilities that cater for their specific needs will usually reap instant PR rewards online.
JETWAY has a standardized plant of 50,000 square meters, include workshops for Hotel Cosmetics, Soaps, PET bottles, PE tubes and Slippers, Plastic Shaving Kit Disposable Razor etc. Our production lines already cover 80% of hotel room supplies, well above the industry average of 30%. Among them, the cosmetics production workshop has obtained a GMP certificate, and it can meet the high-end production needs of customers in various countries.