Hotels and guesthouses I think everyone is familiar with these places. Slippers are one of the necessities of life when staying in hotels, but the hotel's disposable slippers are used in hotels instead of household slippers. Why are they selling today? The hot sale hotel amenities manufacturer will tell you why hotel slippers are disposable slippers rather than household slippers.
Why choose disposable slippers for hotel?
Because it has better sanitation, waterproof, anti-skid, and breathable. Due to the various characteristics of disposable slippers planning, disposable slippers have various advantages, such as breathability, waterproof non-slip properties, water absorption, and so on. In this case, disposable slippers will have a non-slip effect. In view of these advantages, the hotel can choose disposable slippers, because guests not only like clean and clean slippers, but also very fond of wearing slippers that are very focused. The hotel disposable slippers are very simple and comfortable to wear. Although the production of disposable slippers is relatively simple and the cost is low, its comfort and softness are beyond doubt, and it is very comfortable to wear.
According to the survey, there are still some hotels that do not provide disposable slippers but can be reused plastic slippers. Although this saves the hotel costs, it may also cause various diseases due to health problems, which greatly reduces the guests ' Goodwill, it is difficult to win repeat customers. In today's experience-oriented environment, hotel managers must not lose out because of small ones. It is very important to choose disposable slippers that match the positioning of the hotel (guest house).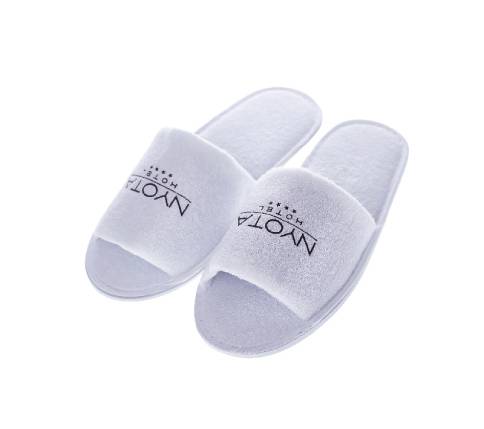 Luxury Hotel Slippers
At the moment, there are also some media reports of guests claiming compensation at the hotel for wearing disposable slippers. This is actually related to the slippers chosen by the hotel. The disposable slippers on the market are mostly made of non-woven fabric or paper. The sole is made of plastic with a thin layer of sponge in the middle. It is divided into non-slip and non-slip. It is recommended that the hotel should choose a relatively thick sole when purchasing. , With anti-skid grooves, so that it is not easy for customers to slip, and it does not reduce disputes and less trouble.
Luxury hotel slippers are one of the must-have items for hotels. In fact, there are many types of disposable slippers. Mainly based on the classification of fabrics, from low to high value, non-woven fabrics, velvet, brushed plush, short plush, towels, cut velvet, waffle. Generally speaking, non-woven slippers are mostly used in small hotels, and so on. Velvet, drawn plush and short plush are generally used in mid-range hotels. The best material is towels, towels, and slippers can be used for guests in winter, because it has good thermal insulation, waterproof and water absorption performance also exceeds other materials of slippers, basically used in hotels above 3 stars.