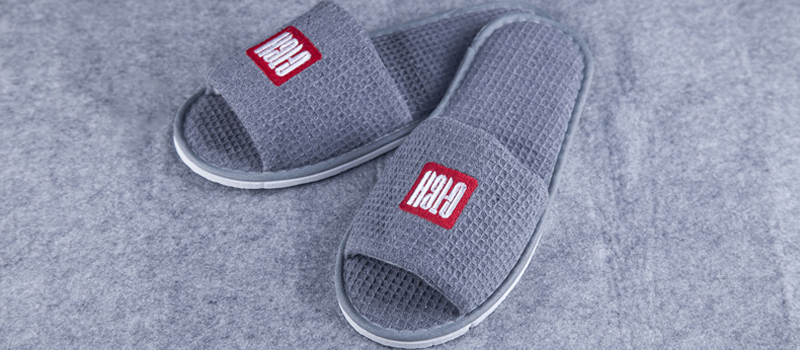 Grey Waffle Hotel Open Toe Slipper
Hotel disposable slippers suppliers tell you the advantages of disposable hotel slippers. JETWAY, as a professional hotel disposable slippers supplier, can provide you with disposable hotel slippers of different materials. Next, we will introduce its advantages to you.
Disposable slippers have good breathability, filtration, heat preservation, water absorption, waterproof, anti-slip and ductility. Using hotel disposable slippers, they will not be messy, have some elasticity, can be recovered, the size is very fixed, not easily deformed, soft to the touch, feel good, comfortable to wear, and light in body. Compared with ordinary cloth, it has directionality. Compared with textile fabrics, it has high productivity and fast production speed. More importantly, it is inexpensive and can be produced in large quantities.
It is more convenient to produce disposable slippers because the size of disposable slippers is fixed and it is much easier to produce. Unlike those recyclable cotton slippers that have higher standards in the production of slipper fabrics, disposable slippers have very low requirements for the face material. Hotel disposable slippers suppliers do not need to consider too many factors in the production, as long as they can produce a large number of hotel disposable slippers quickly according to the right size.
JETWAY can custom hotel slippers. You can send us a sample and we will try our best to make the same slippers as your sample. We provide super soft terry cloth slippers. These hotel slippers are made of terry cotton and velvet. The standard color is white, but we can also provide you with more colors according to your requirements.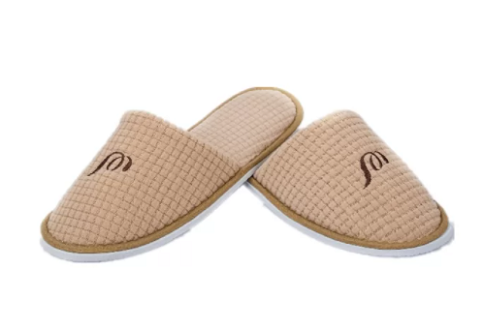 Brown Waffle Hotel Slipper
The Importance of Hotel Slippers
Professional producers of hotel disposable slippers will identify the slippers by looking, touching, and burning. You should never be duped when buying them.
Many hotel disposables producers often make huge profits from this. Choosing hotel slippers requires good waterproof, non-slip, and breathable properties. Hotel disposable slippers are designed to be breathable, waterproof, non-slip, absorbent, and many other advantages. In this way, the disposable slippers will act as a non-slip.
Given these advantages, hotels can choose disposable slippers with confidence because guests not only like clean and hygienic slippers, but also like to wear very comfortable slippers. More high-end hotel slippers will choose high-foam soles, which can be waterproof, and the shoes are loose and comfortable to wear. Disposable slippers are very light and comfortable to wear. Although the production of disposable slippers is relatively simple and the cost is low, their comfort and softness are undeniable and they are very comfortable to wear.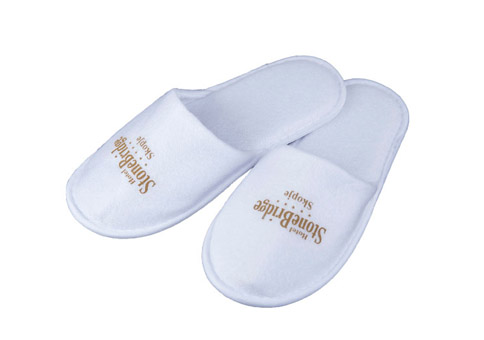 Hotel Disposable Slippers
According to the survey, there are still some hotels that do not provide disposable slippers, but plastic slippers that can be worn repeatedly. This saves the cost of the hotel, but it may also bring various diseases because of hygiene problems, which greatly reduces the guests' complaints against the hotel. Good feeling, it is difficult to win repeat customers. Today, while focusing on the experience, hotel managers cannot ignore the little things. It is very important to choose disposable slippers that match the positioning of the hotel (guesthouse).
At present, there are also some media reports about guests wearing disposable slippers in hotels asking for compensation. This is actually related to the slippers chosen by the hotel. The uppers of disposable slippers in the market are mostly made of non-woven fabric or paper. The soles are made of plastic with a thin layer of sponge in the middle. They are divided into non-slip and non-slip. It is recommended that hotels should choose relatively thick soles when purchasing. With the addition of non-slip grooves, guests are less likely to slip and fall, and there will be fewer disputes and troubles.
Therefore, hotels can be assured that they can choose to buy and choose clean and hygienic disposable slippers to provide services to their guests. Our company sells low price hotel slippers in bulk, looking forward to your call!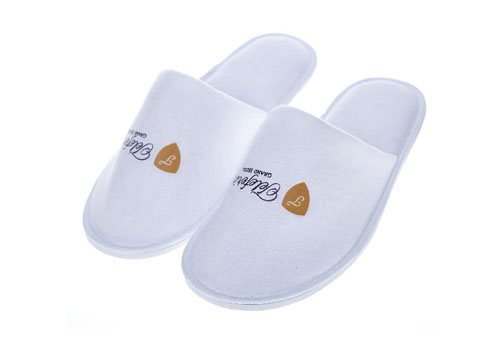 Custom Hotel Slippers
Hotel Slippers for all Occasions
The high-end hotel slippers are suitable for spas or luxury hotels. They can provide guests with a warm and comfortable feeling while hanging out and relaxing. The material of the slippers has good breathability and water absorption, making them stand out in hotels, spas, and beauty clinics. We also provide professional OEM services. We can customize colors, logos, and materials according to your requirements. We can also Provide flip-flops, open-toe slippers, and closed-toe slippers, that fully meet your different needs.
Of course, if you need low-cost and more practical slippers, we also provide non-woven slippers as an alternative to towel slippers. These slippers are more suitable for small hotels with tight budgets or large hotels that want to cut costs.
If you want to get more information about the disposable slippers for guests, welcome to contact us today or request a quote.