A hotel toiletries set can range from simple soap to more luxurious things like custom branded lip balm and body wash. It all depends on the quality of the review you want! At JETWAY, we offer you all the best products to provide your guests with the best hotel toiletries. You can give your guests individual shampoos, choose from pre-packaged kits, or add extras like lip balm and loofah! Here are some additional amenities to consider when building a hotel toiletries kit. Next, the hotel amenities supplier will share them with you.
Shampoo/Conditioner/Soap
Let's start with the basics. In every hotel toiletries kit, you must provide your guests with at least one bottle of shampoo and conditioner in the shower and a bar of soap next to the sink.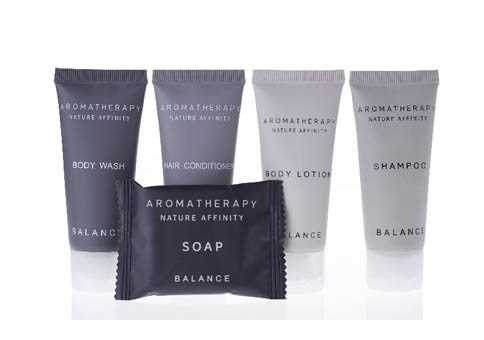 Hotel Toiletries Sets
Lip Balm
One additional amenity you can add to your hotel toiletries is lip balm. You can even custom label our lip balms to include the name of your own stay!
Bath Salts/Crystals
You'll know you're staying in glamour when bath crystals are offered in hotel toiletries! It may seem like a trivial amenity, but bath bombs can provide your guests with the luxury of a stay of your choice.
Mouthwash
Another amenity you won't see on the sink in every hotel room is mouthwash. This is another place where you can set your stay apart when it comes to hotel toiletries. Accent amenities make it easy to customize the toiletries you provide for your guests.
Accent Amenities| Hotel Amenities Collection
Creating a hotel amenity set that is unique and thoughtful and meets the needs of your guests goes a long way. Guests will remember when they were really taken care of, which means your stay gets a good rating. Plus, it'll be fun to put together a unique toiletry set!
What can I take home from my hotel room?
The most straightforward answer is that anything that is free can be taken home with you. This includes your hotel toiletries, slippers or stationery.
What are the items you cannot take home from your hotel room?
Items such as pillows, hairdryers, and bathrobes will be left in the room. There are consequences to owning hotel property, which is why you must be careful with things.
Tip: If in doubt, always contact the front desk to make sure you decide to take the item with you. Towels are your favorite, so other hotels manage this by adding an extra charge to the hanger, so guests realize that you will automatically be charged for using them.
Other hotels have stricter rules, which is why it is proper hotel etiquette to check with the front desk.
Tip: If in doubt, always check with the front desk to see if the item is complimentary.
There are many things we can never take home from a hotel, but if you enjoy the hotel lifestyle, there are many ways to take the hotel experience home with you.
We are a Chinese-based company, focusing on hotel amenities Design & Manufacture. Since 2001, JETWAY has been one of the biggest hotel amenity manufacturers in China. With professional design and an excellent sales team, working with hundreds of importers & distributors all over the world, we provide them with the best quality products and innovative designs. If you want to know about the wholesale hotel toiletries sets, welcome to contact us.